From 14 to 16 June 2023, the thirteenth edition of Optoel took place in Seville under the slogan 'Connecting Academia and Industry'. It is an event conceived as a meeting point for researchers and professionals related to photonics and optoelectronics.
The main topics included the progressive demand for connectivity and information in the Information and Communication Technology (ICT) sector, with photonic technologies providing the subsequent increase in channel capacity; the lighting and display sector, and in particular the development of OLEDs for improved image quality, energy efficiency, thickness, size and weight, all with lower production costs; and the development of new photonic techniques in the field of optical components and sensors for improving safety and well-being in various areas of everyday life.
Carlos Ivan del Valle from Optivia Media presented the paper: 'Low-Cost Energy-Harvesting Hybrid Radiofrequency -Visible Light Positioning System based on Flexible Perovskite Photovoltaic cells for Indoor Positioning'. Indoor geolocalisation needs to be implemented due to the exponential growth in the number of interconnected Internet of Things (IoT) devices, as they could offer the possibility of monitoring the location of people, devices and instruments in real time. Furthermore, the high percentage of the world's population living in cities makes indoor positioning systems (IPS) an interesting research topic.
Most smartphones offer the possibility of using satellite navigation systems. However, their performance is limited in indoor environments due to weak signals. Therefore, interest has grown in researching other technologies to implement these systems. One such alternative technology is Visible Light Communication (VLC), a type of optical wireless communication (OWC). In this context, visible light positioning (VLP) systems have become a strategic solution compared to traditional solutions based only on radio frequency (RF).
In this work, Optivia Media proposed a low-cost, energy-harvesting hybrid RF-VLP system to implement indoor geolocation applications. The receiver consists of a wearable device based on flexible perovskite photovoltaic (PePV) cells.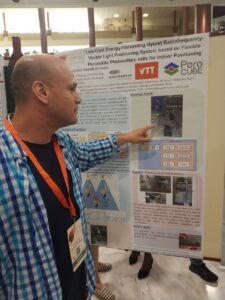 Authors: Carlos Iván del Valle Morales, Juan C. Torres Zafra, Iñaki Martinez-Sarriegui, Kaisa-Leena Väisänen, Riikka Suhonen, Randy Lozada Domínguez, Juan S. Betancourt Perlaza, José Manuel Sánchez Pena.
Optiva Media, Technical Research Centre of Finland (VTT), Universidad Carlos III de Madrid.