The sixth edition of the BalkanCom was held from 5-8 June 2023 in İstanbul, Turkey.
The conference addressed the important challenges in the evolving world of communications and networks, while at the same time enhancing the potential and talent found in this exciting and dynamic region. This year the theme of the conference, 'Towards 6G at the Crossroads of Civilisations: Connected Intelligence and Sensing', will fit not only the Balkan Peninsula, but globally, reflecting revolutionary advances in ICT. This edition of the conference will carry on the spirit of 'Balkans without borders' in order to support and increase knowledge and technology transfer in the area and between neighbouring countries.
Optivia Media – EPAM presented the paper 'A method to improve the bandwidth of photovoltaic modules for LiFi applications', co-written by Carlos Iván del Valle Morales, Juan Carlos Torres Zafra, Iñaki Martínez Sarriegui, Zhongcheng Yuan, Henry Snaith, Alex Ramadan, Arnaud Walter, Xin Yu CHIN, Quentin Jeangros, Randy Lozada Domínguez, José M. Sánchez Pena, Georgios Pekridis, Emmanouil Mylonakis, Manolis Mylonakis and Dimitris Syvridis.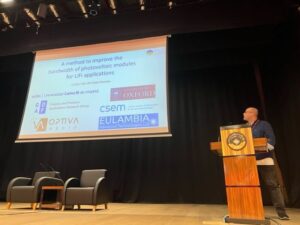 Authors of the communication: Optiva Media, University of Oxford, Centre Suisse d' Electronique et de Microtechnique SA CSEM, Universidad Carlos III de Madrid, and Eulambia Advanced Technologies.